Top Mystery Authors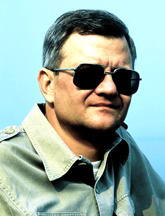 Tom Clancy
Author Tom Clancy was shot into the literary spotlight when his first novel was touted by US President Reagan--and his military thrillers have found a home on the bestseller lists ever since.
Mary Higgins Clark
The queen of suspense, Mary Higgins Clark launched onto the bestseller lists with her first thriller and has stayed on the top for decades.
Max Allan Collins
From Dick Tracy comics to historical thrillers, Max Allan Collins is a staple in mystery fiction.
Michael Connelly
Michael Connelly is a Pulitzer Prize nominated crime reporter turned Edgar Award winning and bestselling crime fiction author.
Patricia Cornwell
Patricia Cornwell's Dr. Kay Scarpetta series captivates its audience by providing frighteningly realistic forensic science investigation.
Robert Crais
Following up his successful career writing for television crime shows, Robert Crais created his Elvis Cole and Joe Pike series to explore themes he couldn't take on in the television realm.
Janet Evanovich
Janet Evanovich's series featuring unlikely bounty hunter Stephanie Plum has earned her awards, a permanent spot on the bestseller lists and crazed fans from around the world.
Linda Fairstein
Linda Fairstein turned her legal career as Chief of the Sex Crimes Prosecution Unit for the NY DA's office into a bestselling series featuring ADA Alex Cooper.
Elizabeth George
Elizabeth George's suspenseful novels have earned her numerous awards and a league of loyal readers.
Sue Grafton
Sue Grafton is one of the best known writers of the female private eye novel.
John Grisham
With bestselling novels (The Firm, The Pelican Brief) turned into blockbuster movies, John Grisham changed the stuffed-shirt image of attorneys into thrilling hot-shots.